The shrine of Karni Mata at Deshnok in the Nokha tehsil of Bikaner district is the venue of a fair twice a year.

Both these fairs are held in Navaratra, the first in March-April and the second, which is smaller , in September-October. Deshnok is said to have been founded by Karni Mata in 1419. There is a legend behind the Karni Mata Fair. Karni Bai was a strange girl with mysterious power. As she was the sixth girl in the family, her aunt wanted to cause her harm but the woman's arm was dislocated. At the age of five, Karni Bai cured her aunt's arm and her father who was bitten by a snake. She helped people with her supernatural powers. On her way to Sind to meet her sister, Karni Bai met a blind carpenter at Jaisalmer. She asked him to make a wooden statue of her and rest his head on it when he lay down to sleep. The carpenter did so and found himself transported to Deshnok the next morning, where his sight was restored. Karni Mata is said to have died in 1538 and she has been worshipped as a goddess since then.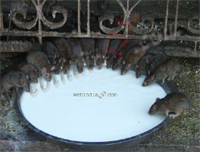 The temple of Karni Mata contains a 75 cm image of the deity. It is built of the yellow marble found in Jaisalmer. There is a mukat or crown on the head of the image and Karni Mata is shown wearing earings.
The temple of Karni Mata has been described as the temple of mice who roam freely about the shrine, unconcerned by the devotees who throng there. If anybody treads on a mouse and kills it, in repentance he has to present a silver mouse at the temple.