Rajasthan Tourism

Known as the 'Land of Palaces and Forts', Rajasthan situated in the Northern part of India is decked with alluring palaces, magnificent forts, a rich culture and heritage. The state encompasses most of the area of the Great Indian Desert (Thar Desert). It borders Pakistan to the west, the Indian state of Gujarat to the southwest, Madhya Pradesh to the southeast, Uttar Pradesh and Haryana to the northeast and Punjab to the north.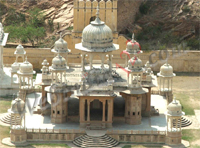 The region is varied as ever with lofty rocks, rolling sand dunes, burning heat and freezing cold, fertile plains and deep wild glens and jungles. Elegant monuments, camel and elephant safari's in the desert, lush green forest and wild life and more over the colorful and mesmerizing life of Rajasthani folks make Rajasthan one of the finest tourist destinations of India. Rajasthan is also a land of arts and crafts. Creativeness of the Rajasthani people can be see even in their life style, dress and ornaments.
Rajasthan offers tourists two luxury trains, such as ' Palace on Wheels' and ' Heritage on wheels' which are included in the list of top 10 luxury trains in the world. The Palace on wheels comprises of 14 fully air-conditioned deluxe saloons, equipped with world class amenities and covers places such as Jaipur, Jaisalmer, Jodhpur, Sawai Madhopur, Chittorgarh, Udaipur, Bharatpur and Agra and is operational from the month of September to April. The seven day tour of Rajasthan starts and ends at New Delhi. ' Heritage on Wheels' travel over unexplored regions of Bikaner and Shekhawati. The tour on 'Heritage on wheels' starts every Tuesday and Friday of the week from Jaipur and ends in Jaipur every Friday/Monday morning respectively. Places covered include Bikaner, Haat, Gajner, Tal Chhapar, Ramgarh, Nawalgarh, Mandawa and Jaipur. Some of the important tourist destinations of Rajasthan include the capital Jaipur, Ajmer, Pushkar, Bikaner, Bundi, Jaisalmer, Jodhpur, Udiapur, Shekhavati, Mount Abu, Ranthambor, Sariska etc.
The climate in Rajasthan fluctuates greatly. Rajasthan has four seasons namely pre-monsoon (summer), monsoon, post monsoon and winter. Summers are hot and humid and winters are cold in the desert areas. Summer, extends from April to June with temperatures ranging from 32 degree C to 45 degree C, monsoon extends from July to September, Post-monsoon from October to November and winter from December to March. October to March is the best time to visit Rajasthan.