Gujarat has four National parks and 21 wild life sanctuaries.

The small area in the Gir forest in Jungadh district, situated 64km from Junagarh and 32km from Veraval is famous for the rare Asiatic lion, which retreated from other places and found a home here. As well as being the last and only retreat of the Asiatic lions in India, the park has also a varied habitat containing a fascinating diversity of some of the extremely rare wildlife. More...
India's first marine sanctuary, the park is situated almost 16 nautical miles away in Great Arabian Sea near Jamnagar and spreads over an area of about 458 sq km. Located at about 7km from the city centre, the park comprises of an archipelago of 42 islands noted for their coral reefs and mangroves. Click here for more details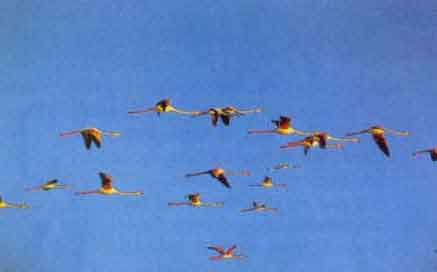 Nal Sarovar is a natural lake, about 64 Km away from Ahmedabad where different varieties of migratory birds of various breeds, flock and rest in winter months (November to February). The bird life in Gujarat is rich in winter when the local residential forms are augmented by a large number of species coming from far off places. Such birds include rosy pelicans, flamingoes, white storks, a variety of ducks including the Brahmany duck from Tibet, Saras cranes, herons, avocets, curlews etc.
Khijadia Bird Sanctuary, located 10 km north east of Jamnagar, represents the combination of seasonal freshwater shallow lake, inter-tidal mudflats, creeks, saltpans, saline land and mangrove scrub. Click here for more details
The Rampara Wildlife Sanctuary is a compact woodland located at a distance of 47 kms from Rajkot airport. The best time to visit the sanctuary is from post monsoon to mid winter (September/ October to January). Click here for more details
Thol Bird Sanctuary
A birderís paradise as well as a photographer's, Thol bird sanctuary is located 40 km north of Ahmedabad, in Mehsana District near the beautiful lake Thol. Click for more details
Purna Wildlife Sanctuary
Situated at Mahal, 60kms north of Dang district, Purna Sanctuary has the thickest damp deciduous forest cover in the state. Crossed by the beautiful Purna river which lends name to the sanctuary and Gira rivers, it is located in the predominantly tribal district of Dangs. Click for more details
Indian Wild Ass Sanctuary
Wild Ass Sanctuary, located in the Little Rann of Kutch in the Gujarat state, is the only place, where the Asiatic Wild Ass species Onager (Equus hemionus) locally called Khacchar is found.
The sanctuary offers facilities for open jeep safaries, but prior permission from the authorities is required for entry as it located in a sensitive border area. Click for more details
The Vansda national Park established in 1979 in Navsari district, Gujarat got its name Vansda as the area was privately owned by the Maharaja of Vansda. The Park covering an area of 24 sq.km is nestled in the mountains of Western Ghats or Sahyadris and is under the control of the government. Even though the park is small, it is extremely dense and has a wide variety of flora and fauna. Some parts of the park are dark even during daytime. The park lies close to the National Highway - 8 and is bisected by the Waghai-Vansda State Highway.
Click here for more details
Velavadar Black Buck National Park
Velavadar National Park, the only tropical grassland in India recognized as a National park is located in Bhavnagar district, in the Bhal region of Saurashtra, Gujarat. The park, now spread over an area of 34.08 Sq.kms used to be a private grassland of the ex- princely state of Bhavnagar with an area of about 1788.88 ha which was subsequently declared as a reserve forest and later notified as a National Park in 1976. An area of 1622.23 ha was further added in 1980. The main attraction of the park located seventy-two km away from the city of Bhavnagar is the massive population of Black Buck, Antelope, Wolf and other endangered species of birds.
Click here for more details