Bhavnagar, founded in 1723, was the headquarters of a former princely state. It is on the Gulf of Cambay with an all weather port with lock gates. It has many educational institutions.
Porbandar is an old port having flourishing trade with Africa, Arabia and the Persian Gulf. The Kirti Mandir, the Kanya Gurukul and the Bharat Smriti are the main attractions of Porbandar. It is also an industrial town having cement and chemical units.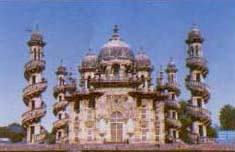 Junagadh is an ancient city resplendent with mythological legends. It has beautiful shrines of Hindus, Jains and Muslims. The fort of the Upar Kot is an imposing reminder of the medieval past. It has two wells called Adi and Kadi named after two girls. On the way to the Girnar from the Upar Kot, are ancient temples and the famous boulder on which are inscribed 14 edicts of Asoka in Pali. It has also inscriptions by Rudradaman in Sanskirt and of Skandagupta.
Bhuj, once the headquarters of a princely state, has a museum. The city is known for its silverware with inlaid work and tie and dye saris.