Holy Places

The most ancient holy places in Gujarat are Dwarka, the seat of the Yadava kingdom of Lord Krishna and the Somnath temple at Veraval which is dedicated to Lord Shiva. Ambaji, Palitana, Girnar and Pavagadh are hill top shrines similarly dating back in history. Ambaji and Becharaji are two most popular goddesses of Gujarat and the temples dedicated to these two goddesses are the centres of pilgrimage for Hindus. Women observe vow of the goddess Becharaji to obtain fertility. Other religious spots include Bhadreswar, Dhakor in Kheda district, Shamlaji in the Sabarkantha district etc

Jains have their holy places at Miran Datar in Mehsana district, Palitana in the Shetrunjaya hill, in Taranga and the Jamial Shah Pir on the Datar hill near the Girnar. Parsis have their holy places at Udvada, near Surat. The holy flame brought here by these worshippers of the sun-god still burns and inspires this small and significant community. Besides these major holy places there are several other temples in Gujarat. In fact Gujarat is a land of temples, which besides their historical and religious significance, are noteworthy for their architectural splendor.

Somnath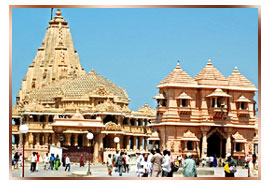 The temple of Somnath is one of the oldest holy places in India. The story of Chandra, the Moon-god associated with the shrine, adds to the mystery of it. Among the twelve Jyotirlingas of Shiva, the one at Somnath has precedence over all the others. Somnath had a chequered history. Every time it was destroyed, it rose again with added splendour. Its destruction at the hands of Mahmud of Ghazni was the precursor of the loss of India's independence and its final renovation followed India regaining her lost freedom. It was destroyed by Allauddin Khilji and Aurangazeb, and every time it was rebuilt. Ahalyabai Holkar of Indore rebuilt the temple adjacent to the original site.