Many of our customs are designed to be simple but powerful reminders or pointers of profound philosophical truths. This is one of the factors that has kept Indian culture alive across centuries.

Lighting Lamp
In almost every Indian home a lamp is lit daily before the altar of the Lord. In some houses it is lit at dawn. All auspicious functions and moments like daily worship, rituals and festivals and even many social occasions like inaugurations commence with the lightning of lamp. Light symbolizes knowledge and darkness, ignorance. The light is worshipped as lord himself.
Knowledge removes ignorance, just as light removes darkness. Also knowledge is a lasting inner wealth by which all outer achievements can be accomplished. Hence we light the lamp to bow down to knowledge as the greatest of all forms of wealth.
Namaskar
Namaskar or Namaste is the most popular form of greeting in India. It is a general salutation that is used to greet or welcome somebody and also for bidding farewell. While doing Namaskar, both the palms are placed together and raised below the face to greet a person. It is believed that both the hands symbolise one mind, or the self meeting the self. While the right hand represents higher nature, the left hand denotes worldly or lower nature. It has also a spiritual significance of negating or reducing one's ego in the presence of another.
Prostrating before parents and elders
Indians prostrate before their parents, elders, teachers and noble souls by touching their feet. The elder in turn blesses by placing his or her hand on their heads. Touching the feet in prostration is a sign of respect for the age, maturity, nobility and divinity that our elders personify. It symbolizes our recognition of their selfless love for us and the sacrifices that they have done for our welfare. It is a way of humbly acknowledging the greatness of another and creates an environment of mutual love and respect among people ensuring harmony in the family and society.
Tilak
Tilak is a ritual mark on the forehead. This Custom is unique to Indians and helps to easily identify us anywhere. The tilak is usually made out of a red vermilion paste (kumkum) which is a mixture of turmeric, alum, iodine, camphor, etc. It can also be of a sandalwood paste (chandan) blended with musk. It is applied on the spot between the brows which is considered the seat of latent wisdom and mental concentration, daily after a bath and on special occasions, before or after ritualistic worship or a visit to the temple. Married women used to put a kunkum mark on their foreheads all the time. In many parts of North India it is applied as a respectful form of welcome, to honour guests or when bidding farewell to a son or relatives. The tilak or pottu invokes the feeling of sanctity in the wearer and others.
Arati
Towards the end of every ritualistic worship of the lord or to welcome an honoured guest or new wedded couple, we perform Arati. It is performed as an act of veneration and love. To perform arti, five small lamps called niranjanas are filled with ghee or oil and arranged in a small tray made of metal. A wick is made out of cotton wool and placed in the lamps. A conchshell filled with water, auspicious leaves or flowers, incense or lighted camphor are also placed in the tray. The lamps are lit and the tray is rotated in a circular motion in front of the deity or the person to be welcomed. At the end of arti, we place our hands over flame and then gently touch our eyes and the top of the head. The purpose of performing arati is to ward off evil effects and the malefic influence of the 'evil eye'
Garlanding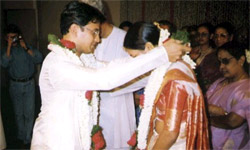 Flower garlands are generally offered as a mark of respect and honour. They are offered to welcome the visitors or in honour to the Gods and Goddesses. The garlands are generally made with white jasmine and orange marigold flowers. They are weaved in thread tied in the end with a help of a knot. During the wedding the bride and groom exchange garlands to express the desire of the couple to marry each other.
Kolams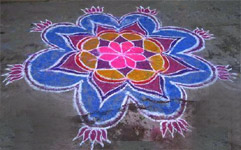 Kolam is an auspicious art of decorating courtyards and pooja rooms/prayer halls in India drawn mainly by women and girls. It is being created to welcome the day. Some women use rice flour to draw a kolam, while others use sandstone or limestone powder. Commonly known as Rangoli but the name of this decorating art varies with place such as Muggulu in Andhra pradesh, Chowkpurana in Uttar Pradesh, Madana in Rajasthan, Aripana in Bihar and Alpana in Bengal. Jhunti in orrisa. Generally, a kolam is drawn with bare fingers using predetermined dots. The dots are either connected together to make a pattern or loops are drawn encircling the dots to complete a design.