Rivers
Land | Mountains | Geographical Divisions | States
Rivers in India may be classified as Himalayan, Peninsular or Deccan, Coastal, and rivers of the inland drainage basin.
| | |
| --- | --- |
| The Himalayan Rivers | Ganga- the largest river basin in India |
The major rivers in the Himalayan group are the Indus, the Ganga and the Brahmaputra. These rivers are generally snow fed and have reasonable flow throughout the year. During the monsoon months (June to September), the Himalayas receive very heavy rainfall and the rivers carry the maximum amount of water, causing frequent floods. Himalayan rivers discharge about 70% of their inflow into the sea. This includes about 5% from central Indian rivers. They join the Ganga and drain into the Bay of Bengal.
The Deccan Rivers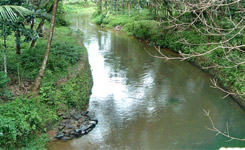 The Peninsular rivers are generally rain-fed and, therefore, fluctuate greatly in volume. A very large number of them are non-perennial. Peninsular rivers contribute 30 percent of the total outflow in India. The major Deccan rivers are the Godavari, Krishna, Cauvery, Pennar, Mahanadi, Damodar, Sharavati, Netravati, Bharathapuzha, Periyar, Pamba, Narmada and Tapti.
The Coastal Rivers
The coastal rivers, especially on the west coast, are short and have limited catchment areas. Most of these are non-perennial as well.
The Rivers of the Inland Drainage Basin
The rivers on the inland drainage basin consists of those in Western Rajasthan which are very few and short lived, like the Sambhar which is lost in the desert sands, and the Loni that drains into the Rann of Kutch.
The Main Rivers in India

| | | | | |
| --- | --- | --- | --- | --- |
| Name | Length (km) | Originates from | Ends in | Passes through |
| Ganga (Bhagirati) | 2,507 | Gaumukh | Bay of Bengal | Uttar Pradesh, Bihar and West Bengal |
| Yamuna (Jamuna) | 1370 | Garhwal in Yamunotri | Bay of Bengal | Delhi, Haryana and Uttar Pradesh |
| Brahmaputra | 2,850 | Chemayung-Dung glacier, between lake Manasarovar and Mount Kailash | Bay of Bengal | North Eastern states of India |
| Kaveri (Dakshina Ganga" or Ganges of the south) | 765 | Hills of Coorg, Karnataka | Bay of Bengal | Karnataka and Tamil Nadu |
| Godavari | 1,465 | Trimbakeshwar near Nasik Hills in Maharashtra | Bay of Bengal | South-easterly direction, through Maharastra and Andhra Pradesh |
| Krishna | 900 | Near Mahabaleshwar in Maharashtra | Bay of Bengal | Maharastra, Karnataka and Andhra Pradesh |
| Narmada | 1,300 | Amarkantak hill in Madhya Pradesh | Arabian Sea | Maharastra, Madhya Pradesh and Gujarat |
| Tapti | 724 | Pachmari, Madhya Pradesh | Arabian Sea | Madhya Pradesh and Gujarat |
| Gomti | 805 | Himalaya Range of Nepal | Bay of Bengal | Uttar Pradesh |
| Ghaghara | | Shivalik mountain range of Himachal Pradesh | Disappears into the Thar Desert | Haryana, Punjab and Rajasthan |
| Mahanadi | 860 | Satpura Range | Bay of Bengal | Chattisgarh, Jharkhand, Orissa and Maharashtra |