Besides the Kamakhya temple (8kms from railway station), Navagraha temple (3kms from railway station), Umananda temple at Peacock island in Guwahati, there are numerous ancient shrines in Assam, the most important of which are:

Aswaklanta
Aswaklanta on the north bank of the Brahmaputra river where the third Pandava, Arjuna, is believed to have watered his horse while covering the length and breadth of Bharat for the performance of the Aswamedha Yajnya. The temple was built by the Ahom King Shiva Singha in the early half of 18th century

Vasistha where the great sage of that name and the author of the Epic Ramayana, is said to have regained his physical body after it had been destroyed by a curse laid by King Nimi (Kaliha Purana ). Basistha Muni Temple alias Basistha Ashram is situated on Sadhya Chal Hill about 12km from Guwahati in a picturesque background with three mountain streams Sandhya, Lalita and Kanta flowing nearby. It is believed that a bath in these streams increases the life span of a person. The grave of Basistha muni is within the temple, where the mortal in his stone form rests in peace.

Viswanath Temple
Viswanath temple in the district (Darrang), called second Kasi (Benares) or Gupta-Kasi (hidden Kasi). This temple is also said to have been installed by King Bana .

Siva Temple, Sibsagar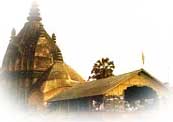 Siva Temple at Sibsagar town, district headquarters of Sibsagar district, is situated by the side of a splendid tank which is about half a mile in length and a quarter of a mile in breadth. The temple stands between two smaller temples, Devi-doul and Vishnu-doul (doul-temple).
Maha-Bhairava Temple, Tezpur
Maha- Bhairav temple at Tezpur believed to have been built by prehistoric monarch Bana who is said to have first introduced the cult of the Phallus and the worship of Siva to Assam. A fair is held here during Sivaratri. Tezpur is 196 km from Guwahati.
Neghriting Devalaya is also a Siva temple. In architectural beauty it surpasses all the temples in Assam. It is situated at a distance of 17 and 14 miles respectively from the towns of Jorhat and Golaghat. There are four smaller temples in the four corners of the base of the main temple .