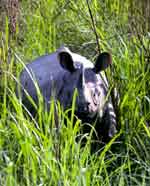 This park is 215 Km away from Guwahati, at Kohora. The best season is November mid to April. It is closed during monsoon ( April to mid October). Trained elephants are available as mounts for seeing the park. Jeep drives are also available.
Park roads are open 0800 - 1100, 1400 - 1630. Elephant rides between 0500 - 0600, 0630 - 0730 and 1530 -1630. These are the three road routes : (1) Kazi ranga range - Kohora, Daglang, Foliomari, (2) Western range - Baguri, Monabeel, Bimoli, Kanchanjuri. (3) Eastern range - Agortoli, Sohola, Rangamatia. The observation towers are situated at Sohola, Mihimukh, Kathpara, Foliamari and Harmoti.
This park occupies around 430 sq km. It is a World Heritage Site. The Indian one-horned rhino is the main attraction of this park. It was declared a game reserve in 1926 to save the one-horned rhino. A single horn of the rhino was worth of US $ 40,000 in 1995. It has swamp deer, hog deer, wild pig, hoolock, wild buffalos, sambar gibbon, pythons, tiger and elephants. There is a rich variety of shwater fowls, the egrets, pond herons, river terns, fishing eagles, adjutant storks, black necked storks are also available. The river here, has the gharial (fish eating crocodile) and dolphins.
Click here for more details
Neghriting Devalaya is also a Siva temple. In architectural beauty it surpasses all the temples in Assam. It is situated at a distance of 17 and 14 miles respectively from the towns of Jorhat and Golaghat. There are four smaller temples in the four corners of the base of the main temple .