Imphal

Imphal, the capital of Manipur lies at the heart of an oval shaped valley at 790 m above sea level. It is one of the oldest state capital of the country, found in the IIIrd century B.C. The name is derived from the word 'Yumpham' (homestead). The city is the political, educational and cultural epicenter of the people of the state of Manipur.

Khwairamband Bazar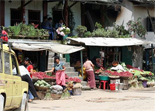 This Bazar (market) is at the heart of the town. Open from 0700 to 1900. It is the largest women's bazar in the country. Around 3,000 women gather here every day. It is believed that these women are supervised by the Ima Goddess, so this bazar is known as "Ima Market or 'Keithel'. It is an excellent market to buy handicrafts and handloom wears. Fish, vegetables, food stuffs, cosmetics and jewellery are also available.
There are two cemeteries maintained by the Commonwealth War Graves Commission in memory of the British and the Indian soldiers who died during the Second World War. One is located on the Imphal - Dimapur NH-39 and the other one is at Imphal - Ukhrul Road. These are very beautiful and peaceful sites.

Shaheed Minar

Meitei and Tribal martyrs who sacrificed their lives while fighting the British in 1891, is commemorated by this tall Minar at Bir Tikendrajit Park in the heart of Imphal.
Khonghampat or Central Orchidarium
Located at a distance of 7 kms from Imphal, on Highway No. 39 is the Khonghampat or Central Orchidarium, a must see place for orchid lovers. Maintained by the Forest Department of Manipur, the orchidarium covering almost 200 acres, houses over 110 rare varieties of orchids. Cymbidium, Cattleya, Denrobium, Phalaenopsis, Vanda varieties of orchids are found in plenty along with several rare species. The Orchidarium provides information on orchids and their families. The best time to visit this paradise of Orchids is at the peak blooming season from March - May.

Manipur State Museum

The museum set up in 1969, showcases the rich cultural heritage of the people of Manipur. Located at Imphal near the polo ground, the museum comprises of various Galleries such as Ethnology, Archeology, Natural History, Painting, Jallan, Children's Gallery and an open air gallery for housing the 78ft long boat called Hiyang Hiren (Royal boat). Open: 10 am to 4.30 pm, Monday and Holidays closed.