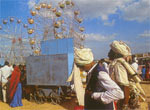 The fairs in Gujarat are generally associated with some religious festival. Most of the fairs in Gujarat are held on riversides (River Narmada in Baroda and Broach districts) or near confluences of rivers, sacred ponds and reservoirs or on hillsides, sea shores or in pilgrim centres, either in Chaitra ( March/ April) or Kartika months on full moon days.

Fairs on the full moon days in the month of Chaitra are held at Chandod and at Karnali in Baroda district and at Shuklatirth in Broach district in the month of Kartika. A big annual fair during Janmashtami, the birthday of Lord Krishna is celebrated at Dwaraka and Dakor with great enthusiasm. Muslims have also their fairs, held at their sacred places.

The fair held on the full moon day of the month of Kartika (November) at the confluence of seven rivers near the village Vautha, in the Ahmedabad district is the most colourful one when people from far and near assemble to have a holy dip in the confluence. The confluence is known as 'Saptasangam' and there is a famous Siddanath or Shiva temple here. The premises also becomes a venue for animal trading. On the occasion thousands of donkeys are brought here for trading, mostly by Gypsies.

The fair at Shamlaji in the Sabarkantha district is a great occasion of mirth where Adivasis, especially Bhils and Gharasias in thousands gather. The two week long fair is also called Kartik Purnima. The 11th century Shamlaji temple here is dedicated to Vishnu.

Madhavrai Fair at Madhavpur near Porbandar is held to celebrate the marriage by elopement of Lord Krishna and Rukmini, on the 9th day of the bright half of the month of Chaitra ( March/ April ).

Ambaji Fair dedicated to Amba, Mother goddess is held in Banaskantha district.

Urs
The Urs at Shah Alam Roza in Ahmedabad and at Miran Datar in the Mehsana district are most important fairs for Muslims.