Fauna
Gujarat is very rich in animal life. The localised forest areas of the Gir in Saurashtra, Panchmahals and Dangs are having hordes of gazelles and antelopes. The Asiatic lion is now localised in the Gir forest, which has also smaller mammals including languor's and blue bulls.
Gujarat having an extensive coastline, perennial rivers and lakes and ponds are rich in a variety of fish.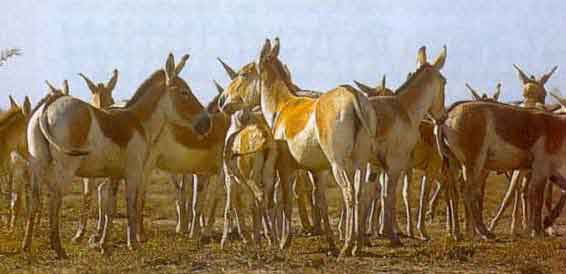 Besides Asiatic lion, tiger, panther and cheetah, the wolf, jackal and fox are also found in the forest areas of the state. Civets, the grayish languor, rabbits and porcupines are some other animals found there. The wild ass is a distinctive species found only in Gujarat, in the Rann of Kutch. The black buck in herds and the spotted deer are among the antelopes found in Gujarat.

The thick forests of Dangs, receiving maximum rains and having abundant greenery, are the home of beautiful birds such as Trogon, hornbills, barbets, babblers, racket-tailed drongos and minivets.

The sarus, pea-fowls, red-wattled lapwings, parakeets, babblers and mynas are mostly found in the plains. The extensive coastal regions of the state give shelter to a number of birds such as plovers, stints, sandi pipers, curlews, lesser flamingoes, terns and gulls. During the winter, flocks of migratory birds come down to Gujarat from faraway countries, some of which have their habitat in Siberia. The great and the little Rann of Kutch, when filled with water during favourable monsoon, serve as breeding ground for flamingoes, pelicans and avocets.

While drier areas of Kutch and north Gujarat serve as haunts to gray partridges, larks, white-eared bulbuls, finch larks and sand-grouses. The pied-crested cuckoo, migrating from East Africa comes to Gujarat a little ahead of monsoon. Among the birds coming to Gujarat in winter from the north can be included the rosy pelicans, white storks, brahmany duck, which breed in Tibet, demoiselle, common cranes, other varieties of ducks, coots, snipes, moorhens, curlews and stints.

The Nal Sarovar about 65km from Ahmedabad is a veritable sanctuary of winter birds. Gujarat is also rich in song birds including shama, whistling thrush, dhayal, a variety of larks, yellow-cheeks tit, golden oriole and bulbuls.