Dussera is celebrated all over Himachal. The Ramlila plays begins a month prior to this and finish on the day of the festival. In the evening an actor dressed as Lord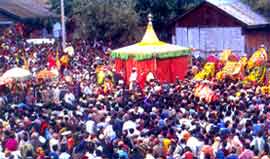 Rama shoots arrows at effigies of Ravana, his son Meghnad and his brother Kumbh Karna and sets them on fire. After this, crackers are lit and sweets are distributed.
The Kulu Dussera is the biggest draw among festivals. It is held in October in Dhalpur maidan of Kulu. The beginning is marked by Rathyatra, in which the chief deity 'Raghunathji' is carried in a fully decorated wooden chariot. The yatra signifies the march of Rama to conquer Ravana. The famous Nainadevi fair is held in August. Some of the devotees cover the entire distance to the temple by lying prostrate each time they take a step.