Fairs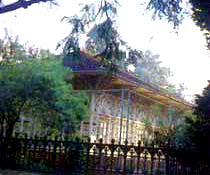 There are fairs held in celebration of two notified medieval personages who helped to colonize the fearful jungle of Sunderbans by their reputedly spiritual powers. One is Pir Ghazi Mubarak Shah whose seat is at Ghutiari Sharif in the south. 24-Parganas district is the scene of an annual fair at the end of the Bengali year at which pilgrims irrespective of community offer worship to the Saint at his grave. The other is having his seat at Dhapadhapi in the same district is Dakshinary, elevated to the position of controlling deity of the ferocious tiger. A big fair is held in his honour on the day following the bathing day at Gangasagar.
Gangasagar mela is celebrated at Sagar which is about 105km south of Kolkata where the Ganga and the Bay of Bengal form a nexus.
Pous Mela or Poush Utsav, an annual event held at Shantiniketan is a milieu of different thoughts and ideologies with people from different walks of life thronging Rabindranath Tagore's abode. The utsav became an integral part of Santiniketan ever since Maharshi Debendranath Tagore with twenty followers accepted the Brahmo creed from Ram Chandra Vidyabagish on 21 December 1843 (7 Poush 1250 according to the Bengali calendar).
Though a potpourri of different cultures and traditions, the utsav has been living up to the Bramho spirit of universal brotherhood blurring the shadow lines of religion, caste and creed. It is characterised by its live performances of Bengali folk music, specially by traditional bauls - wandering minstrels, singing Bengali songs. Tribal dances (Santali) is also part of the fair. The day starts with the entry of the Vaitalik group, who go round the ashrama (hermitage) singing bhajans in the wee hours. Soft music of traditional shehnai fills the air. It is followed by prayer-meetings at Chhatimtala. Then the entire congregation in traditional grandeur moves on to Uttarayan singing songs.
Poush mela is held around December 22 the date on which a Adi Brahmo shrine was established at the seat of Tagore in 1891. Subsequently, a small fair was organised in 1894 to celebrate the establishment of the anniversary of the Brahma mandir. Gradually the Mela developed at Santiniketan and Sriniketan 3 km away, providing a meeting ground for tribal, rural and elite cultural elements. Now over 1000 stalls selling almost everything a family needs, are set around the mela ground. Commencing on the 7th day of the month of Poush, the fair officially lasts for three days, although vendors may stay up until the month-end.