Kavadi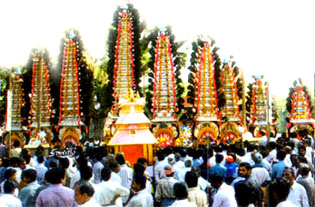 Lord Muruga or Subrahmanya, the son of Lord Shiva, has annihilated all the evil forces of demons. He is said to be reside in six embattled field-camps called Padaiveedus. Palani and Thirupparakundram in Madurai district are two such holy places. They are hillocks described in mythology as carried by a giant called Idumban slung on the two ends of a pole placed on his shoulder. This Idumban became one of the principal devotees of Lord Subrahmanya. He has a shrine half-way up the Palani hill and receives the first honours from all devotees proceeding to worship Subrahmanya. Actually the worship of Lord Subrahmanya without paying homage to Idumban is considered ineffective.

The carrying of Kavadi by pilgrims is symbolic of Idumban carrying the hillocks, the abodes of the Lord slung on a pole.

There are several kinds of Kavadis- the milk and rose-water Kavadi being the principal ones. The central shaft of the semi-circular wooden structure is placed on the shoulders and the pilgrims dressed in yellow costume and decorated with garlands, undergoing many privations to fulfill vows. They dance their way through the streets and up the hillock under the hypnotic music provided by the drum, the pipes and the tom-tom.

It is a Tandava as opposed to the Lasya form of dance. Extreme devotion prompts some Kavadi dancers to disfigure their lips. The lower lip is pierced through for the insertion of a copper or brass ring, often with a view to maintain silence. The dancers subject themselves to rigorous austerities and try to get rid of their ego, anger, lust and other vices. They dance to the tunes of Kavadi-c-cindu, sung by admiring groups of devotees who follow the dancers. The divine songs are rendered in charming music by a trained singer and repeated by others in chorus and the emotion-chocked dancer goes into raptures hearing them. Sometimes they react by shifting the Kavadi over their shoulder, head, nose etc. in see-saw position displaying great artistry with many a pose and movement in rhythm, unaided by hands.

Kavadi-c-cindu, a peculiar folk art of Tamil genius has blossomed into a literary and technically brilliant form. It gives a lilting tune and inspiration to listeners and relieves the bearer of the Avid of physical pain. It is also called Vazhinadai-cindu. It is sung by pilgrims while trekking long distances, to forget the tedium.

The Kavadi-c-cindu is sung not only by pilgrims on the march but also in temples. In some temples, it is sung on the last day of Navarathri in different metres. In Tiruchendur and in Palani, the cindus are sung with Nadaswaram before the deity starts in procession. These songs describe the romantic relationship of Muruga to Valli.