Puravai Attam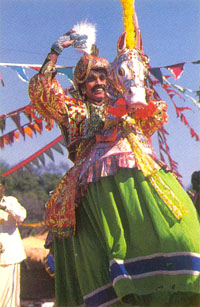 Puravai Attam also known as Poikkal Kuthirai, is a dummy horse show. The dummy horse is made of jute, cardboard, paper, and glass. The show is performed by men as well as women.
The main attraction is the richly decorated cardboard horse. The dancer uses this as his dress. He gets into it through the holes made therein and looks as if he is riding on horse back. Wooden stilts are tied to the dancers feet and these can be successfully used only after months of experience. The purpose of using the stilts is to prevent the dancer from being harmed by snakes or scorpions.
This dance is performed by a pair of dancers impersonating a king and queen. Sometimes, they indulge in acrobatics and they entertain the folk for hours together.
The dummy-horse show is one of the chief attractions in the republic day festivities at New Delhi and folk artists are sent from Tamil Nadu every year to perform this show.