Vaishali
Vaishali, the birthplace of Lord Mahavira the greatest profounder of Jainism, lies 56 km north of Patna. It is also the place where Lord Buddha preached his last sermon. The name Vaishali is derived from King Vishala, son of Surya Vansha mentioned in the Epic Ramayana. It was one of the first cities in the world to adopt a republican form of government during 6th century BC. More details of Vaishali
Ashoka Pillar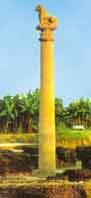 It is at Kolhua, Vaishali. This pillar also known as Bhimsen-ki-Lathi (stick), is a single piece with a height of 18.3 meters. This highly polished pillar is built in red sandstone. It has a life size lion carved on top.
Raja Vishala Ka Garh
This ruins occupies an area enclosed by a wall of about 1 meter long and 2 meters high. The ancient parliament house surrounded by a moat can hold an assembly of 7,708 representatives is 43 meters wide. There is a 4th century temple Chaumukhi Mahadeva (4 faced Lord Siva) here.
The Archaeological Museum
Archaeological Museum at Vaishali includes terracottas, seals, coins, pottery and sculpture. Entry - free, Opens from 1000 to 1700. Closed on Fridays.