A part of Bihar was separated and formed into a new state Jharkhand on November 15, 2000. Click on Jharkhand for more information.
Bihar is lyin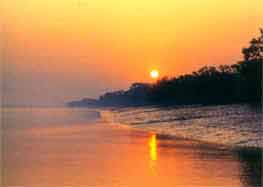 g approximately between 21o58'10'' and 27o31'15''N latitudes and 82o 19'50'' and 88o17'40''E longitudes in the lower and middle Gangetic region extending 483 Km from west to east. This state embraces some of the most fertile lands of India. Bihar, squeezed in between West Bengal, Jharkhand and Uttar Pradesh, reaches up to the Himalayas in the north and is completely land locked. Bihar is bounded on the north by Nepal, on the south by Jharkhand, on the east by West Bengal and on the west by Uttar Pradesh.

Bihar gets the worst of the cold and the worst of the heat and plenty of floods. Northern portion of Bihar is almost entirely a level tract, while the south is wooded and hilly. Bihar has a number of rivers, the most important of which is the Ganga. The river Ganga flows right across it from west to east. North Bihar is extremely fertile, the land being watered by the rivers Sarayu, Gandak and Ganga. The other rivers are the Sone, Poonpoon, Falgu, Karmanasa, Durgawati, Kosi, Ghaghara etc.