Jaisalmer
This ancient city lies in the heart of the Thar desert. There is facility for camel safaris into the desert. This walled city has intricately carved golden buildings and havelis.

Fort The fort is surrounded by a 30 ft high wall. There are gateways atthe east and west of this fort. Jain and Hindu temples, palaces and charming havelis can be seen inside the fort. The Juna MahalOldPalace) is a seven storied building. It stands under a vast umbrella of metal that is mounted on a stoneshaft.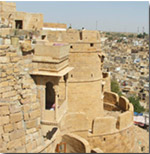 The historic spot of the Satiyon-Ka-Pagthiya(step of the Sati) is situated at the entrance of the palace. There are 8 Jain temples in the fort. These temples were built from 12th to 16th century. There are thousands of carved deities and dancing figures housed here. Inside the temple there is a Gyan Bhandar (Jain Library). It contains more than 1000 old manuscripts- some of them from the 12th century and written on palm leaf . It has also a collection of Jain, Pre-Mogul and Rajput paintings . Entry : Daily from 0800 to 1700. Jain temple is open to visitors daily from 0700 to 1200, Entry free. The Library opens daily from 1000 to 1100.
Havelis You can see five havelis outside the fortress. These havelis were built by the Patva brothers in 1800. Two of the havelis are now owned by the government. These havelis are open to the public. The interior of the other three havelis can also be seen with an offer of small fee to the present residents. The Nathamal Ki Haveli was built by two brothers. The design of the havelis are remarkably harmonious. The Salim Singh Ki Haveli is a six-storied structure with 38 balconies and elaborate carvings.
Folklore Museum. It is behind the main bus stand. Opens daily from 0900 to 1200 and 1500 to 1800. This museum narrates the back-ground of local history and culture of Rajasthan.