Agriculture
K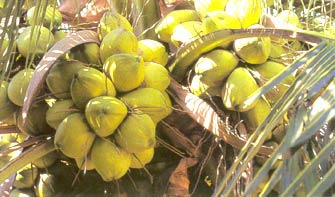 erala is an Agrarian economy. Cash crops, like coconuts, rubber, tea and coffee, pepper and cardamom, cashew, areca nut, nutmeg, ginger, cinnamon, cloves and the like, give the agriculture of Kerala a distinct flavour. It is coconuts which bring the people their principal source of earning in agriculture. Nearly 70% of Indian output of coconuts is provided by Kerala. Cashew is an important cash crop of the state. The state has facilities for converting raw cashew into the dried fruit, salted or plain. Cardamom is another cash crop which gives Kerala a distinctive place in Indian export.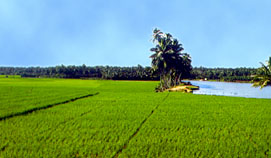 Alappuzha, one the district of Kerala known as the 'rice bowl of the state', has a predominant position in the production of rice (kuttanad Taluk),. Tapioca is another important crop of the state, cultivated mainly in dry land. It is a food of Kerala state, next to rice.
Kerala Irrigation: In the field of irrigation the major schemes are Chalakudy, Peechi, Malampuzha, Gayatri, Walayar, Vazhani, Neyyar, Mangalam and Cheerakuzhy.