The houses are built of clay bricks and the roofs are of slate. In the hill areas stones are used instead of bricks a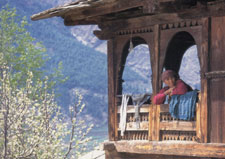 nd timber is used for the roofs. The cattle houses are close to the house. People prefer pucca houses. The tribals live in double storeyed houses where the ground floor is used for the cattle and the first floor is used as their living quarters. The labourers live in thatched huts. The architectural patterns change from area to area.

Among the gods both Aryan and non-Aryan gods are worshipped. Shiva is the chief god among the Gaddis. Vishnu, Krishna and Buddha are also worshipped. There is very little impact of Jainism. The Buddhist Lama religion has had a great impact in the Lahaul, Spiti, Pangi and Kinnaur areas.