Folk Dances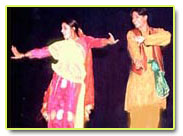 The folk dance tradition in Bihar has three distinct streams. One of them is the folk dances of Videha, the present Mithila which is mainly rooted in the songs of poets, the second stream is those of the Adivasis which are closer to nature, social institutions and rituals. The third stream relates to the Chhau dance of Seraikella and other regions of south Bihar.

The folk dances of Mithila are religious, social or sectarian. In the religious type, gods and goddesses are invoked through dance, performed to the rhythm of folk songs and such musical instruments as the dhol, pipahi, pakhwaf, and danka. The Ram-leela nach, Bhagat nach, Kirtaniya nach, Kunjvawt nach, Naradi nach, Vdypat nach and puja Arti nach are all religious folk dances of Mithila. Folk dances for men are accompanied by songs and musical instruments and the footwork of the dancers is in tune with the swar and

tal of the music. The dances exclusively for women are Jhijhiya nach, Jatajutia nach, Sama Chawka nach. The only mixed group dance is Saturi dance of Mithila. In the family dance called Bakho nach, the husband and wife participate on the occasion of the birth of a child or a similar joyous occasion. The different lower-caste groups have their own exclusive dances such as Chamar natua, Kanala mai nach, Dampha-Basuli nach. There are such popular dances as Pamariya nach, Videshia nach and Kathputli nach.