Itanagar in Papum pare district also known as the ' Land of the Dawnlit Mountains' is the beautiful capital of Arunachal. The historical city identified with the ancient Mayapur of the 14th and 15th century A. D. is scattered with light, earthquake-proof, wooden-framed buildings rising up the slopes of green hills. The residence of the Governor is situated on one peak while a Buddhist Temple crowns the other. Between these two building lie administrative offices, shops, daily bazars and thatched houses. The nearest airport is 67km away at Lilabari in Assam. The nearest railway station is Harmuty in Assam (near Banderdewa check gate) only 23 km from Naharlagun & 33 km from Itanagar. For accommodation contact Protocol Officer, Itanagar Phone : 0360-212010, 0360-212613

This historical fort of an irregular shape, built mainly with bricks is situated at the heart of the capital complex in Papum Pare district. There are three gates on three sides viz; Eastern, Western and Southern, which is said to be built by Ahom rulers. It is estimated that more than 80 lakhs of bricks, 45 cubic metres of stone and 46,300 man-days were required to build the fort.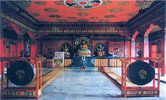 This temple which is located on the top of a hill amidst gorgeous green gardens with yellow roof reflects the extensive Tibetan influence. There is a stupa erected in front of the shrine. The Dalai Lama planted a tree by the side of the shrine. The grounds of the temple afford a good view of Itanagar Town.
Visit : Daily, expect Mondays. The ground floor covers the images of tribal people. Collections include art, musical instruments, religious articles and wood carvings. The first floor contains the archaeological finds from Itafort, Noksaparbat and Malinithan in Lower Siang district. The textiles, weapons, ornaments are also kept on this floor. There is also a library and a handicraft centre which specialises in traditional Cane manufacture.
Ganga a natural Lake locally known as Gyaker Sinyi (confined water), 6km away from Itanagar situated on the foothills of the Himalayas, is a beautiful spot for outings, boating and picnics. This green forest lake surrounded by primeval vegetation, orchids masses on tall trees, tree ferns provides an insight to the magnificent forests of the state.
Itanagar Wildlife Sanctuary, spread over an area of about 140.30 sq. km was established in 1978 and is situated in the Lower Subansiri district. With evergreen forests, the wild life present here are elephant, barking deer, tiger, leopard, serow, birds & orchids.
Situated on a small ridge, this park is in Naharlagun and has interesting botanical specimens. There is also a small zoo housed in the park. Handicrafts Centre run by the Industries Department offers a good range of shawls, carpets, carved caskets and the beautiful cane & bamboo work.