Tawang Monastery or Gompa also known as the 'Galden Namgyal Lhatse', is a 400 year old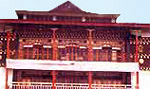 Buddhist monastery of the Mahayana sect, built in the 17th century. It is situated at a height of 3500 meters or 10,000 ft at the Bhutan border. The monastery was founded by a monk, Mera Lama, a contemporary of the fifth Dalai Lama. It is a vast complex of 65 buildings - a treasure house of old scriptures, priceless images, painted tapestries, books and collection of gold lettered Buddhist scriptures.

The 'Parkhang' hall of the monastery houses the library which holds the rare hand written and block-printed 'Thankas' or manuscripts of revered books like 'Tangym', 'Kangyur' and 'Sungbhum'. The other rare works of Buddhist literature include 108 gold-embossed manuscripts of the'Teaching of Lord Buddha' and 225 volumes of the explanations of Buddha's teachings covered with specially designed moth - proof silk adorned with paintings. There is a towering 18 ft high gilded statue of the Buddha in the monastery complex.

The Tawang Monastery is associated with the famous Torgva festival which is held in the eleventh Monpa month called the Dawa Chukchipah(i.e Dec-Jan as per the Buddhist). There is also a Craft Centre here producing fine woolen carpets of colourful designs.