Rivers & Natural population Regions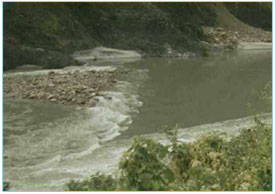 In distribution of population, Arunachal Pradesh can be divided into six natural regions. The first two regions are the Western parts of Kameng District and Tirap District where there are comparatively large concentration of population. The upper, the middle and the lower belts of the remaining parts of Arunachal Pradesh constitute other three distinct regions. The concentrated population pockets on the foot hills constitute the sixth region.

The terrain mostly consists of submontane and mountainous ranges with the Himalayan range along the northern borders criss- crossed with ranges running north-south. The rivers have created broad valleys in these areas. Due to the heavy rains,

the forests are luxuriant in growth and large game inhabit them. Population is scanty.

The Brahmaputra, India's major river enters Arunachal Pradesh from Tibet and flows into Assam from where it goes down to Bangladesh before falling into the Bay of Bengal. The state gets as much as five hundred centimeters of rain fall and this accounts for the large number of rivers and lakes in the region apart from extensive forests. The rivers Kameng, Subansiri, Siang, Lohit and Tirap have divided the plains of Assam into valleys.