Churches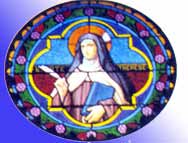 The Eglise de Sacre Coeur de Jesus or Church of the Sacred Heart of Jesus, situated on the south boulevard at Subbayah Salai, stands out as an oriental specimen of Gothic splendour. Built by French missionaries in the 1700's, the church contains rare and beautiful stained glass panels depicting events from the life of Christ. The church cemetery further along the south boulevard hold some tombs with ornate marble embellishments.
The Eglise de Notre Dame de la Conception Immaculate, on Cathedral Street, was first built in 1692. It took its present shape in 1791. In front of the church is a statue of Our Lady with the infant Jesus in her arms.
The Eglise de Notre Dame des Anges, in Rue Dumas, is notable for its masonry-which uses the finest of limestone mixed with white of the egg-making for a texture identical to that of white marble. It is modeled on the Basilica at Lourdes, in southern France.
Our Lady of Angels Church (Karaikal)
The church of Our Lady of Angels located at Church street built in 1891 is the chief place of worship for Catholics in Karaikal. The church originally built in 1739 by the French
Villianur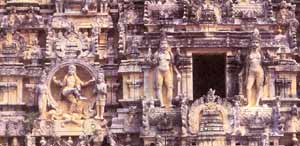 You can locate the architecturally fine site of Sri Gokilambal Thirukameswar Temple, 10kms from Pondicherry. Thousands of devotees converge here for a ten-day annual festival (Brahmotsavam), held during May-June along with the appearance of the full moon.
The massive 15m tall temple chariot, basking in finery, is taken out on a procession by a devout crowd. It's a remarkable sight. Besides, the breath-taking Ousteri lake nearby, spread over 10 hectares, is home to rare varieties of birds.
The Varadaraja Temple
The Varadaraja Temple (12the century) is the most important Vishnu temple in town, located just west of Mahatma Gandhi Road, off Tyagaraja Street. Here, Narasimha sits behind Venkatachalapathy, the main deity. It is believed to be the oldest temple in town, dating back to 600 AD.
Vedapureeswarar Temple
This 18th century Siva Shrine located on M. G Road in Pondicherry houses stone inscriptions and a swayambhulinga. Recently renovated, the gopuram (tower) is brilliantly colourful.
Manakula Vinayagar Temple
Located right behind the Raj Nivas in Pondicherry town, this 300 year old Ganesha temple has an interesting story. A neighbouring Frenchman finding the place of worship a nuisance, made several futile attempts to do away with the deity. Still, it kept reappearing. Convinced, he turned into an active believer.
Therefore, the temple is also fondly referred to as Vellakkaran (white man) Pillai (Ganesha). There is also a small shrine dedicate to Murugan here.
Ammaiyar Temple (Karaikal)
Legend says that Lord Siva disguised himself as an ascetic, seeking alms from a lady called Punithavarthi living in Karaikal. Who later, as Karaika Ammaiyar, was destined to find an esteemed place among his 63 saints. An image of this lady saint is housed in a small and beautiful temple erected right where she lived.
Thirunallar Temple (Karaikal)
Thirunallar is 5kms west of Karaikal. The sanctum sanctorum of Lord Dharbaraneswara Temple holds Siva as the main deity. However, its shrine dedicated to Saneeswaran (Saturn) which figures in the story of Nala-Damayanti, makes this the most famous Saturn temple in India. The annual 'Mangani' festival celebrated during the month of June-July ie. the day of full moon falls on Aani, a tamil month, is a well attended 'Mela'.
The blessings of Saturn are said to be overwhelming, while its wrath causes great misery.
The temple hosts a mammoth festival (Shanti peyarchi), each time Saturn moves from one sign of the Zodaic to another.
Masthan Saheb Dargah (Karaikal)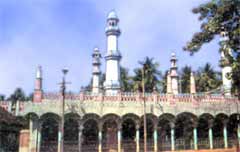 Dedicated to Masthan Saheb Syed Dawood Buhari, a Sufi saint who came to Karaikal from Buhara, the capital of Turkistan, two centuries ago. He died aged 120, in 1829. Various miracles are attributed to him. The over-170-year-old Kandhuri Festival (November) is celebrated in his commemoration. It starts with the hoisting of a huge flag on a pole-reminiscent of a ship and a sea-faring tradition. And winds up, 10 days later with a spectacle of floats lit with electric colours.