Area

: 21,087Sqkm

Capital

: Aizawl

Languages

: Mizo and English

Districts

: 8

Population

Males
Females

: 891,058
(2001 census)
4,59,783
4,31,275

Literacy Rate

: 95%
Mizoram, in the local language, means the land of Mizos. Mizo itself means highlander. Under the British administration, Mizoram was known as Lushai Hills district. In 1954 by an Act of Parliament, the name was changed to Mizo Hills district. In 1972, when it was made into a union territory, it was named Mizoram. Mizoram became the 23rd state of the Indian union on February 20,1987.
Mizoram is situated between 21-58o to 24o 29' north latitude and 92o 29' to 93o 22' east longitude. The tropic of Cancer passes near the capital, Aizawl town.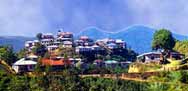 Mizoram occupies the north east corner of India. In shape it is rather like a narrow and inverted triangle. It is bounded on the north by the district of Cachar (Assam) and the state of Manipur, on the east and south by Chin Hills and Arakan (Myanmar) on the west by the Chittagong hill tracts of Bangladesh and the state of Tripura. Mizoram borders three states of India - Assam , Manipur and Tripura. Its geographical borders with Assam, Manipur and Tripura extended over 123 km, 95 km and 66 km, respectively. Mizoram is a land of hills. The hills run in ridges from north to south. They have an average height of 900 metres, the highest point being the Blue Mountain (2165 metres).