Kashmir Valley
The valley of Kashmir is a unique, oval plain, approximately 134 km in length and 32 to 40 km in breadth, with an average height of 1,800 m above the sea level, and nested securely among the Pir Panjal range of the Himalayas.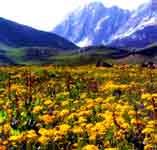 The mountains which surround the valley are varied in form, height, and colour. To the east stands hoary-headed Harmukh (5,150 m), the formidable mountain guarding the valley of the Sindh. Further south is Mahadev and the lofty ranges of Gwasha Brari (5,425 m). The peak of Amarnath (5,280 m) also lies in this area. On the south-west is the Pir Panjal range with peaks 4,500 m high and to the north are ranges of the Karakorams and the Himalayas. Himalayas is dominated by the majestic Nanga Parbat (7,980 m), also called by the poetic name of Diyamir. Covered with snow all the year round and rising glistening white, Nanga Parbat is the fifth highest mountain in the world. Latitude wise, Kashmir corresponds to Damascus in Syria, Fez in Morocco, and South Carolina in the United States.
The legend that the Kashmir valley was a vast lake, Satisar, in pre-historical times, corresponds with the results of geological observations. The sandstone rock at the western corner of the basin was most probably formed by volcanic action. The lake was drained by the deepening of the Baramulla gorge - the result of the slow process of erosion spread over geological years. Tradition has it that the drainer of the lake was Kashyap, after whom the valley was called Kashyap-mar, which, with the passage of time, became Kashmir. According to an interpretation, Kashmir is a prakrit compound with its components Kas meaning "a channel" and Mir, "a mountain" - the compound word adding to a "a rock trough." In the Puranas, Kashmir is called gerek (hill) because of its overwhelming hilly features. The word Kashmir has been shortened by Kashmiris into Kashir. Kashmiris call their language Koshur or Kashur.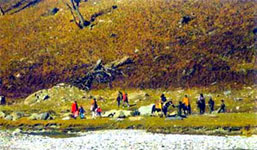 The shape of the valley is that of an elliptical saucer. The floor of the vast valley is built of small consolidated lake beds and alluvial soils. Numerous plateaus, locally known as Karewas, stand up isolated in the middle of the valley.
Anantnag (also called Islamabad) is another ancient town of Kashmir, about 64 km to the north of Srinagar. It is an exotic town full of springs and streams run in every other compound. Some of these are sulphurous springs, which have curative qualities.
Other major towns are Baramulla and Sopore, both situated on the Jhelum after the river enters the Wular lake and emerges from it.