Heli-Skiing
The Zealous mountaineer, eager to explore this Shangrila of the east, can hire tents, camp gear, kitchen accessories, as well as bearers and guides, at Srinagar.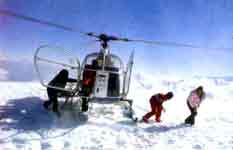 Gulmarg, located 56-km south west of Srinagar in Kashmir is one of the ultimate skiing hot spot for intermediate skiers. The place gets heavy snowfall and has earned the distinction of being the best ski resort in the Himalayas. The introduction of new adventure sport, called Heli-skiing, in 1987-88, added a new dimension to the winter tourism of the state. Heli-skiing consists of being dropped by a helicopter on the summit of a high, snow- covered peak and then skiing down the slopes. The helicopter transports skiers from the base (Gulmarg) to heights of over 4,500 m landing on a different peak every day, whether it is Apharwat, Yusmarg or the Kolahai glacier. In Kashmir, there is already a well - organised central Gulmarg Ski institute conducting ski courses and competitions. Kashmir became the second place in the world, after Canada, to offer large scale heli- skiing. The construction of a 7.5Km long gondola cable car ropeway from Gulmarg to Apharwat, which began in April 1988, has also contributed to Kashmir becoming a year-round destination. Read more details
Rafting

The Zanskar and the Indus rivers in the Ladakh region offer rafting expeditions for the experienced rafters as well as the novice.
Zanskar river expeditions in summer is the ultimate for a rafter which takes one through the one of the most breathtaking gorges in Asia. Read more on Zanskar
Indus River is one of the most scenic white water runs anywhere in the Himalayas. The view is breathtaking which takes one through the Canyons in the Ladakh and Zanskar ranges with various monasteries or Gompas along the river bank. The icy cold and clear river have rapids generally of I and II grades and at some places, has grade III rapids. Read more on Indus river rafting