The tribal areas like Minghal, Chhatrahadi, Bharmaur, Manali, Parasher, Karsog, Saranh, Moorang, Sarahan, Vilba etc are full of beautiful temples carved out of wood. Some of the memorable carvings are Shiva and Parvati sitting on the back of the Nandi Bull with the holy Ganges flowing out of Shiva's tresses on the entrance door of the sun temple at Beerath near Shimla. A panel depicting soldiers firing guns and wrestlers wrestling and warriors dancing with daggers can be seen at the entrance of the Beejat temple at Chaupal. In the Malana village in Kulu a pillar depicts human figures in the act of love making.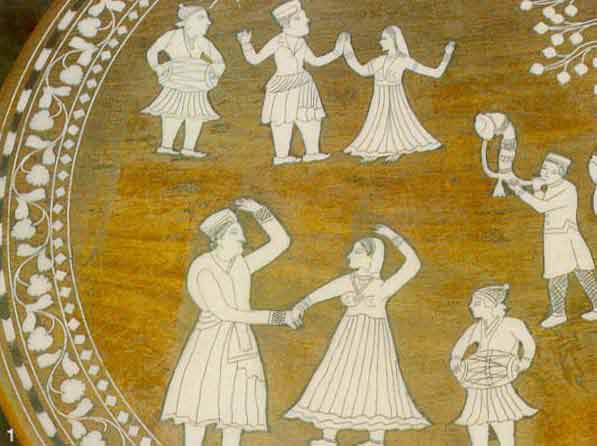 Houses all over Himachal display intricate wooden carvings at the entrance gates, at the edge of the roof, rooftops, verandahs and pillars. These are especially in evidence in Kangra, Garli-Paraypur, Kulu, Simla, Chamba and Bharmaur areas. The door ways has a carved statue of lord Ganesh adorning it and flanked on either side by animal and bird figures. Carving upon the pillars depict flowering creepers, kings settling out on expeditions, wrestlers and family deities. The margins are usually adorned with ornamental designs.
The locally produced wooden objects like book-rests (Dargail), racks, stools, walking sticks, vases, photo frames, cupboards toys and articles of personal adornment are good examples of the proficiency of the local artisans in the art of wood carving. Most of the figures are basically religious and reflect the religious devotion of the artist.