Bamboo and cane craft

The availability of cane and bamboo in abundance have made Arunachal Pradesh famous for its cane and bamboo articles. Bamboo and cane are used to make colourful basket mats, cane belts, attractive smoking pipes, jewellery etc. It is also used traditionally by the tribal population for constructing their dwellings, common household utensils, furniture, and even weapons such as bows and arrows, spears, armour, and implements like dibbles, hunting and fishing traps. Most of the household are engaged in making bamboo and cane articles.

Weaving
Weaving is another important household industry in Arunachal. Among the tribes the Apatanis are the most advanced weavers. The tribal use bark fibres extracted from trees, goat's hair, human hair besides cotton and wool for weaving. They make ceremonial coats and shawls, and embroidered cotton cloth, handbags, skirts and lungis (loin cloths), shawls, sashes, carpets etc.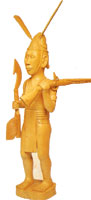 Wood Carving
Wood carving is a traditional craft among number of tribal communities in Arunachal Pradesh. The main centre for woodcarving in the state is the Wancho area of Tirap district. They make figure heads, warriors, miniature morung, figurines depicting different vocations common to rural life, animal figures, colorful masks and images of Lord Budha.
Blacksmithy
The tribes of Arunachal Pradesh make various weapons and tools with metal for their own use. Each tribe specialises in making different items. Daos, arrow heads, knives and iron bracelets as jewellery are some of them. Besides this, products made out of other metals like brass, bone, silver, gold etc. are also produced by the tribes. Some common products are ornaments, dishes, sacred bells, smoking pipes etc
Textiles
The textile patterns found among the tribes of Arunachal Pradesh such as Adi, Mishmi and Apatani are invariably of geometric pattern. Most popular motives are Zig-Zag lines and angular designs. The floral and Zemorphic patterns are more or less geometric form. The simple and straight lines, stripes and Aa bands and similar other patterns are most common. Contrasts and combination of colours are quite popular. The highly disciplined Adi and Apatani concentrate on simple straight line, while the strongly individualistic Mishmis go in for great celebration of pattern. Read More..