Wood Carving


Wood carving is one of the main industry of the tribes of Madhya Pradesh. Various objects of daily use, hut dwellings etc are finely carved. Tobacco containers with tortoise and the sun-moon motifs and designs, Combs depicted with animal motifs, intensely carved wooden spears and utensils, carved boxes, panels, furniture and funerary pillars carved with figures are some of the products.   


Brass work
Brass work occupies an important place in the craftsmanship of the Bastar tribes. The urge for creativeness reflects in most of the images made of the brass and bell metal. For preparing these figures they follow the ancient cire-perdue process. First the earthen core is made, then wax is shaped on the object which is ultimately replaced by molten metal. The products include, animal and human figures, deities etc..

Textiles
Textile weaving is one of the main crafts of Madhya Pradesh. Sarees in subtle shades are woven in p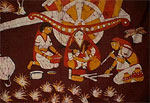 laces like Chanderi, a village near Gwalior and Maheshwar. These sarees include a wide variety of checks with traditional gold borders. Madhya Pradesh's craftsmen are equally adept at producing tassar silk handloom fabrics.
Thousands of craftsmen practice hand printing, generally with vegetable dyes. Tarapur and Umedpura, two villages on the opposite banks of the river Gujari, use indigo for their prints. The printers specialise in printing fabrics with a blue background and yellow and red prints, known as nandra. Garments, bedspreads, tablecloths and curtain material are produced here. Jawad also has a similar style of printing. Mandsaur produces excellent bandhanis as well as resist prints imitating the bandhani patterns. Sarees with batik work based on the local mandana traditions of floor and wall decorations have been developed here. Tie and dye chunaries are the speciality of Tarapur and Mandsaur. Skilled craftsmanship is also on display in a variety of zari-embroidered articles. 

Carpet Weaving
Carpet weaving has became popular in Gwalior. The fine quality of weaving in imaginative designs has earned Gwalior's carpet industry an excellent reputation. Today, more than a thousand looms are in operation in and around the city.