The Chakmas, the fourth largest tribal group in Tripura migrated from the Chittagony hill tracts and settled in the territory of hill Tripura. They are attracted towards this land because of splendid opportunities available in the territory for jhooming. They are now generally settled in Kailusahar

, Udaipur, Amarpur, Sabroom and Belonia. Most of them are Buddhist. Their chiefs, called Dewans, exercise great authority and influence within the community in all internal matters. The Chakmas in Tripura lag much behind in education. Smoking is quite a habit among them, although they are in general not so addicted to drink. The Chakmas celebrate the funeral ceremony with great pomp and dignity. In their religious practices, one finds a curious blending of Buddhism, Vaishnavism and even Islam.

The Halams: The section of Kukis who had submitted to the Tripura raja came to be known as Halams. Originally the tribe was divided into twelve sub-groups or dafas. But, now there are as many as sixteen clans which make the whole Halam community.

Generally the Halams are followers of the Sakti cult, but the majority are Vaishnavites. They believe that God is one but has different manifestation and therefore should be appeased separately. They also believe in the existence of spirits with super-natural powers. The ker and Bara puja are the two important festivals of this community. Famous for their ferocity, on the one hand, and for an innate sense of devotion, on the other hand, they were recruited to the army of this east while native state in large numbers.

Like other Tribal women of the land, the Halam women are skilled weavers and weave their own garments which consists of two separate pieces, a knee-high scarf and a breast garment. Apart from weaving, the women carry on their usual and traditional house-hold duties like cooking, husking rice, marketing etc,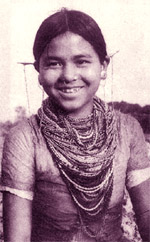 also helping their men in cultivation and other outdoor activities.
The Moghs, another group of Tripuris, were originally inhabitants of Arahan. They are generally free from any intra-communal or inter-group class distinctions. As a community, the people are very disciplined, self-reliant and peace-loving and meek.
The Mogh women, are strong, stout, and industrious, performing all the household activities, besides weaving their own garments. Like the Halam women, they are very fond of gorgeous ornaments and dresses.The chief means of their livelihood is jhooming. A few among them are engaged in plough cultivation in addition to jhooming.