Orchha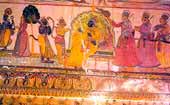 Orchha 75 miles from Gwalior, was founded in the 16th century by the Bundela Rajput chieftain Rudra Pratap, on the banks of Betwa river. Orchha's fort complex, approached by a multiarched bridge has three palaces, set in an open quadrangle. The most spectacular of these are:
Jehangir Mahal: Built by Raja Bir Singh Ju Deo in the 17 th century. Its strong lines are counterbalanced by delicate chhatris and trellis work, the whole conveying an effect of extraordinary richness.
The Raj Mahal: It is the example of Bundela Rajput architecture. It has two rectangular courtyards around which the floors rise in tiers, typically there are cool chambers below ground and a fountain. Some of the original blue tile decoration remains on the upper outer walls. The palace has plain outer walls. Left side of the first courtyard is the Hall of Private Audience. This hall is covered with rich carpets and cushions.
Ram Raja Temple: Its soaring spires and palatial architecture, the temple is one of the most unusual in India. It is also the only one in the country where Rama is worshipped as a king. It opens from 0800 to 1230 and from 1900 to 2130. Its fresh pink and cream colour painting is a peculiarity, if compared with other temples. It is interesting to visit during arati.