Gwalior
Gwalior is situated near Agra. It is famous for its fort with several interesting temples and ruin palaces inside its walls. The magnificent mementos of a glorious past have been preserved with care, giving Gwalior an appeal unique and timeless. Gwalior also has the distinction of being a centre of Indian classical music.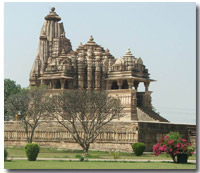 Gwalior Fort: This fort stands on a hill 91 meters above sthe surrounding plain. It is 200-850 meters wide and 2.8 kms long. The main entrance to the north comprises of a twisting, easily defended approach, originally with seven gates. A 9 meter high wall seen from the North present a formidable battlement. Inside the fort there are some marvels of medieval architecture. The fort also houses the Teli-ka-Mandir, Gujari Mahal, Man Mandir Palace, Suraj Kund etc.
Tansen's Tomb: A pillar of Hindustani classical music, the great Tansen, one of the 'nine jewels' of Akbar' court lies buried in Gwalior. It is built in the early Mughal architectural style. More than a monument, the tomb is part of Gwalior's living cultural heritage: it is the venue of a national scale music festival, held annually in November-December.