Rivers and Mountains

The Sahyadris mountain range run from Belgaum in the north to Mysore in the south. They form a triangular area in conjunction with the Eastern Ghats. The Ghats are only 305 to 610 meters in height in the middle but towards the south, they are quite tall and rise to a height of 1830 meters above sea level. It is here that the Nilgiris overlap the Ghats and at places, they rise to 2440 meters. Naturally at that height there are wooded areas and evergreen valleys, deep gorges, and pleasant plateaus. They lend themselves to the growth of plantations of different kinds which yield coffee, tea, areca nut, cashew nut and cardamom.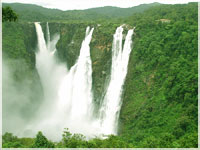 The Kalinadi, the Gangavathi Bedti, the Tadri, and the Sharavati are the prominent rivers of North Karnataka. Sharavati is the shortest river and is famous for the mighty Jog Falls, the site of the hydel projects. All these rivers are west flowing and some of them are torrential streams which are in full flow in the monsoon.
Most of the major rivers of the state have their origin in the Ghats and flow eastwards towards the Bay of Bengal, through Andhra Pradesh or Tamil Nadu. Krishna with its tributaries like the Bhima and Ghataprabha and Tungabhadra is among these mighty rivers. The Kaveri river in the southern part of the state, which has its origin on Brahma Giri in Coorg, with its tributaries like the Shimsha, Hemavati, Kapila and others enters Tamil Nadu and is a major source of irrigation both in Karnataka and Tamil Nadu. It is a river of discord between the two states because of the great demand on its waters for the farmers in each of the two states and the matter often reaches emotional where politicians take over. The rivers Polar and Pennar in the eastern parts of the state are among the other important rivers.
The Krishna which originates in Maharashtra, is also a cause of dissension between Karnataka and Andhra Pradesh. The coast has several ports. Ports like Karwar, Ankola, Honavar and Bhatkal are situated at the mouth of the rivers where they fall into the Arabian sea. Mangalore and Malpe are important ports in the southern part of the state and the river of significance is the Netravathi. In ancient times these ports provided India's contacts, commercial and cultural with far way and near lands like Egypt and Sumeria.