Lies 18km almost directly south of Dharamsala, but one time it was a place of considerable importance. The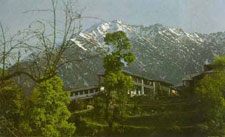 Kangra valley is one of the most picturesque valley of lower Himalayas. The valley, sheltered by the sublime Dhauladhar range, is green and luxuriant. Tropical mangoes and plantains jostle with temperate cherries, crab apples, medlars, and rambling roses. Carefully terraced fields, irrigated by streams descending from perennial snows, present a picture of loveliness and repose which cannot be seen elsewhere in India.

The history of Kangra valley dates back to the Vedic times more than 3500 yrs. ago. The area was exposed to successive invasions, the last being the British domination over the princes of the hill states. Despite the onslaughts and political upheavals, the arts and crafts of the region continued to develop and found lyrical expressions. Crafts like the exquisitely designed shawls and miniature paintings of this region are internationally appreciated.