Tripura is the second smallest state in India. It was formally declared as Union Territory on November1st, 1957 and was elevated to the status of a full-fledged state on January 21,1972. The state lies approximately between latitude 22o56' and 24o32' north and longitude 91o10' and 92 21' east. It is bordered by Bangladesh on the west, south and north, by Assam on the north-east and by Mizoram on the east.

The state is covered by picturesque hills and dales, deep and green valleys which have added beauty to its landscape. The state is connected with the rest of India by only one road which runs through the hills to the border of Cachar district in Assam. The state has three districts with ten sub-divisions. The three districts are Tripura west with Agartala as its headquarter (which is also the state capital), Tripura north and Tripura south with Kailasahar and Udaipur respectively as district headquarters.

From the east the principal hill ranges are the Jampoi, Sakham Tlang, Langtarai, Athara Mura and Bara Mura. The highest peak of the state is Be-talang-Shiv (3,200 ft) in the Jampoi hill range. A number of broad and elongated valleys - Agartala - Udaipur - Sabrum, Khowai - Teliamura - Amarpur - Silachari etc are located between the north-south trending, parallel to sub-parallel high ranges (topographic highs) such as the Baramura - Deotamura ranges, Atharamura ranges, Langtari ranges, Sakham ranges and the Jampui hill ranges.

The soil in the valley is fertile with rich alluvial deposits and therefore suitable for the cultivation of paddy, jute, oilseeds, pulses, fruits and vegetables. About 54.5% of the land is under forest. Only about 24.3% area is available for agricultural use.

The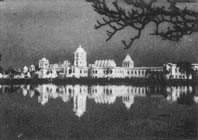 Khowati, the Manu, the Haorah, the Muhuri and the Gomati are some important rivers of Tripura. Gomati is the largest river. Like the Ganges in North India, the Gomati is considered to be the most sacred of all the rivers in Tripura. The source of the river is taken to be Tirthamukh where lies the beautiful Dumbar falls - one of the most important holy places. The rivers Khowai, Doloi, Manu, Juri and Langai are flowing towards the north and those flowing towards west are the Gomati, Muhuri and Feni.
The climate of the state is generally hot and humid. The average maximum temperature is 35oC in May-June and the average minimum temperature is 10.5oC in December-January. The average rainfall is around 230cm/annum. The monsoon starts generally in April and continues upto September. Summer starts in March and continues upto May and is followed by rainy season extending over about three-four months (May-August). The pleasant season lasts only for about two months (September and October). Then follows winter which continues up to February.