Maharashtra is the centre of many religious and cultural traditions. In Maharashtrian villages, life revolves around fairs and festivals.
During April, Mahavir Jayanti is celebrated when thousands of Jains make pilgrimages to Bahubali, where two Jain temples have been constructed one for the Swetambara sect and another for the Digambara. Christians observe Good Friday and Easter Sunday around the same time.
Buddha Purnima is celebrated in May. Muslims celebrate Bakrid in the same month and Muharram is witnessed in June in remembrance of the Prophet Mohammed on his death anniversary.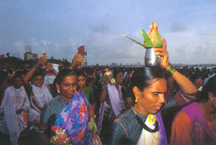 Narli Purnima
The full moon of Shravana is celebrated around August as Shravani Purnima, Rakhi Purnima and Raksha Bandhan. In the coastal areas it is celebrated as Narli Purnima to appease the sea gods. Fisher folk worship the sea and decorate their boats, sing and dance, and make offerings of coconut. Raksha Bandhan is celebrated on the same day in different parts of the state.
Nag Panchami, the snake festival, is observed at the village called Battis Shitale in the Sangli district of Maharashtra towards the end of August or early September. The devotees collect hundreds of cobras, place them in earthen pots and worship them to the accompaniment of folk dances and song. Later they are carried in processions of bullock carts and chariots. On the following day they are released into the fields from where they were captured.