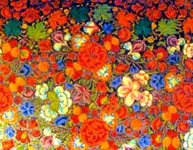 Both plain and engraved work is executed to cater to the differing tastes of buyers, which include many American tourists. The range of silverware is indeed wide: silver tea-sets, flower vases, toilet sets, scent chests, ornamental picture-frames, cigarette-cases, tumblers, etc. Among the flora and fauna, leaves of the chinar and the lotus furnish the popular patterns. Designs of the lilac, a popular flower of the Valley, are also wrought in silver.

The Kashmiri artisan also produces excellent products of copper-ware consisting mostly of cooking pots and samovars (tea-kettle of Russian origin) and sundry articles for the household or the mantelpiece. There is a good demand for lovely copper trays inlet into tables of carved walnut-wood, the carpenter working in co-operation with the deft coppersmith. Enameled silver work is also pretty

Papier-mâché craft, peculiar to Kashmir, was also introduced into the Valley by the great monarch, Sultan Zain-ul-Abidin, who has been aptly called the Akbar of Kashmir. The products, beautifully painted over with ornamental patterns, comprise picture-frames,

pen-cases, screens (which can view with the Chinese counterparts), tables, tea-pots, writing sets, candle-sticks, handkerchief and tie boxes, vases, stamp boxes and other utility goods whose need is now fairly widespread. Green fields sloping towards the snow-capped mountains, sparkling streams running over rounded rocks, shikaras and lotuses blooming on the lakes, are the favourite papier-mâché patterns. The craftsmen have introduced brass and metal-lining for the new style of papier-mâché goods which makes them more durable and useful.

Walnut and chinar wood, abundant in Kashmir, provides material for the wood-carving, which is among the best known cottage industries of Kashmir.

To make excellent furniture and toilet articles such as chairs, cabinets, writing-or dining- tables, jewellery boxes and ornamental caskets, which are greatly appreciated. Some of the walnut wood products-cigar boxes and trays, table-tops, handkerchief and collar boxes-are delicately carved. Floral designs of almost every conceivable variety are made with great accuracy of detail in chased or raise work.
Khatam-band is a speciality in Kashmir woodwork and comprises ceilings of rooms, made from thin panels of pine wood, cut into geometrical designs. Builders of houseboats have kept this old craft alive.
In Kashmir the shrine of Khwaja Naqshband, near the Jama Masjid of Srinagar, presents the best example of this craft.
The Kashmiri carpentry and wicker-work industries are notable. The boats (float-bottomed mostly) that the carpenter makes are of many sizes, and include the famous house-boats, the favourite residence of summer visitors. In wicker-work, Lunch and flower baskets, chairs and tables and various other articles of common use are turned out in elegant designs. Kangri, the Kashmiri chafing vessel, its earthen bowl encased in wickerwork, is also made as an artefact ornamented with wicker rings and coloured mica for the mantelpiece.