Forestry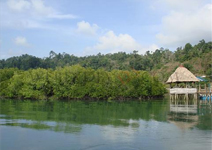 Forests cover 7.171 sq.m of the total area of the islands. The forests come under the general equatorial belt of tropical rain. The main type are the tropical evergreen, moist deciduous and mangrove forests. There are about 200 species but only 44 are harvested, of which only 29 are used for industrial purposes. The most important Andaman timber is the deciduous type which dominate but none of these are available in Nicobar.

A few more other important species among hardwoods are, Badam , white Chuglam, Taungpeinne, Lal Bombeive, Nabbe, Red Dhup, Pyinma, Sea Mohwa and Koko. Among soft woods are white Dhup, Bakota, Didu or Semul , Papita, Lambapathi, Thitpok. Among ornamental woods are silver-gray, Satinwood, Marble wood and Chool.


The Forest Department started functioning in 1883. Isolation and remoteness from the mainland has been the main constraints. There has been thus no large-scale forest operation in the Nicobar Islands.

Raising Of Plantations Of Commercial Crops

The Corporation has taken up a project for cultivation of Red Oil Palm on an area of about 2,400 hectare in Little Andaman Island under a Central Sector scheme. This corporation has raised plantation in an area of 640 hectare including 160 hectare raised by Forest Department. This corporation has also produced about 25 Kilo Litres. Palm oil during 1982-83.