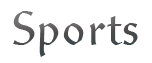 OLYMPICS
Athens 2004
The Olympic game was back to their roots in Athens, Greece after more than 100 years. Athens Olympics witnessed the participation of a record 202 countries with 10,500 athletes on Friday 13 August, 2004.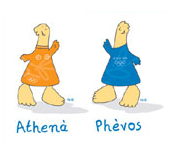 The two official mascots of Athens are two children, a brother and sister Phevos and Athena. The mascots, inspired by an ancient Greek doll, are named after the Olympian god Phevos (Apollo), the god of light and music and goddess Athena, goddess of wisdom and patron of the city of Athens. Phevos and Athena represent the values of Olympics such as participation, brotherhood, equality, cooperation and fair play.

The Emblem of the games is an open wreath made from a branch of the sacred Olive tree, the symbol of the state of Athens. The wreath was the prize awarded to the Olympic champions during the ancient Olympic games.
The Athens 2004 medal shows the Greek goddess Nike as flying into the stadium bringing victory to the best athlete as opposed to the medals till now which s

howed her as seated. In the background, Panathenic stadium is depicted with the athletes discipline engraved in the facade. The reverse side has the eternal flame, the 2004 emblem and the opening lines Pindar's Eighth Olympic Ode composed in 460 BC.
The Olympic village is a dream village designed beautifully, spending approximately $ 700 crore, more than twice the money spend for the last Sydney Olympics. The first matches of the Olympic Games are those for the First Round of the Olympic Men and Women Football Tournament held on 11 August, at the Stadiums of the four Olympic cities Volos, Heraklio, Thessaloniki and Patra. The shot put contests of the athletic competitions will be held at the original spot of the ancient Olympic stadium at Olympia, 145 km west of Athens, after 1611 years. The games will come to a close on 29 August 2004.