It is 56 km away from Shillong. The orange groves are the main attraction at Cherrapunji. It is the second wettest place on earth with a rainfall record of 2,300 cm. Recently, Mawsynram, 55 kilometers from Shillong has taken away that title. This town is famous for it's limestone caves and Orange honey.
Nohkalikai Falls, reputedly the world's fourth highest is 5 km away from Cherrapunji near Serrarim.
In Garo hills there are a few lakes on the road between Phulbari and Tura. There is an archeological site. On the way to Jowai there is a beautiful lake called Thadlaskein, traditionally believed to have been made by the army of Usajor Nangli with the points of their bows. A tourist lodge has been built on its bank .
Near Rongreng - Girl in Garo hills, there is a place commemorated as the scene of the Garo's last stand against the British.
The lime stone belt along the southern slopes contains many caves. Batcaves known by that name because of great flocks of bats that make their home can be seen near Sijer in the Simsang valley of Garo hills.
Tura, the headquarters of the W.Garo hills district is situated at the foot of the Nokrek Peak, the second highest peak in the state. Tura peak about 2,500 feet above the Tura town is famous for its scenic beauty.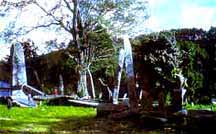 Visitors to the Khasi and Jaintia hills can see the wide distribution of Megaliths in the central uplands. Their age has not been ascertained. Most of them are very ancient. The tallest and most massive can be see at Natriang, the former summer capital of the Jaintia rajahs. Nartiang is about 65 Kilometers east of Shillong. The tallest Megalith here is 8 meters high and 2meters wide. Others may be found near Mawnluh, Syndai and Mawsynram.