Panaji (Panajim)
The capital Panaji located in the north Goa district, is about 680 kms from Bangalore. It was originally the former capital of old Goa, situated at the bank of the Mandovi Estuary. The archbishop's palace, a modern port, government buildings, shops, hotels and bars comprise this town. It is a small, pleasant place.
Church of Immaculate Conception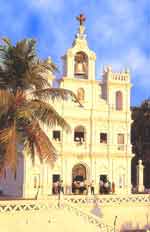 It is south of the Secretariat at Panaji. It was built in 1541, subsequently enlarged and rebuilt in 1619. It is white in colour with Portuguese Baroque style tall twin towers. The bell fitted at the church is the second largest in Goa, which was brought from its original site Augustinian monastery in Old Goa.
It was originally Adil Shah's palace but later it became the Viceroy's official residence.
It is at Dr. Pissurlenkar Road, Opp Azad Maidan, Visit - Monday to Friday 0930 - 1300, 1400 -1745. It exhibits the paintings by European artists of 19th and early 20th century and Goan artists of the 20th century. The seven legged rectangular table used for interrogation during Inquisition is an attractive furniture kept at this Institute. The central library here has rare books and documents.
It is 7 Kms away from Panaji. This small palm fringed beach with casuarina groves is very peaceful. The small town has several resorts.