Old Goa
The Old Goa is 8 Kms from Panaji. It is regarded as the spiritual heart of the territory, with its imposing churches and cathedrals. St. Francis Xavier was here in mid 16th century. The old Portuguese churches are the main attraction at Old Goa.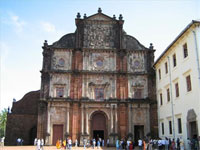 The Basilica of Bom Jesus (1594)
It is a fine example of Jesuit architecture and has emerged as a landmark in the history of Christianity. It is a world renowned church which contains the body of St. Francis Xavier. The saint, was a pupil of the soldier- turned - saint, Ignatius Loyola, the founder of the Order of Jesuits. More details

The Se Cathedral is dedicated to St.Catherine of Alexandria. Built between 1562 - 1619, it is the largest church in Old Goa and the largest in Asia with a barrel vaulted ceiling. There are four chapels on each side of the church. On the right St. Antony and St. Bernard, the Holy Spirit and the Cross of Miracles. On the left the Blessed Sacrament and Nossa Senora de Boa Vida. The main altar has paintings and is superbly gilded. There is a tower with a huge bell called the Golden Bell.
The church of St.Cajetan (1665) is built by the Italian friars of the Theatine order. They were send to India by Pope Urban III. The church is shaped like a Greek cross. It was modeled on the design of St. Peter's in Rome.
Church of St Francis of Assisi
The Church of St Francis of Assisi is a broad vault of a church with two octagonal towers. The high altar is decorated with painting on wood depicting scenes from St. Francis' life. The floor is made of carved grave stones. There is a convent at the back of the church started in 1517 by Franciscan friars. It has the Portuguese Gothic style.
Archaeological Museum and Portrait Gallery
It is at the Convent of St. Francis of Assisi, Old Goa. Entry - free. It has the collection of sculptures covering the period before the arrival of the Portuguese. The portraits of Portuguese Governors are placed on the first floor which provides an interesting study in the evolution of court dresses. Visit : 1000 - 1200, 1300 - 1700, closed on Friday.
Sri Mangesh Temple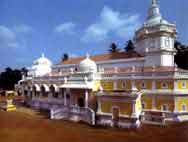 Sri Mangesh Temple is at Mardol. The temple is the shrine of Shiva. It has the most famous lamp tower in Goa. The image of the deity is housed behind a highly decorated silver doorway. The 8 white columnar pillars, is at a height of 2.5 meters supporting the broad arches.