Animal Husbandry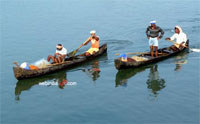 The animal husbandry and the veterinary services form an important sector of rural economy. Cattle feed, milk products, meat etc were imported on a large scale. There was one cattle farm at Dhat in Goa district having an important herd of Sindhi cows and a small poultry farm at Tonca, Panaji.
A Piggery farmwas also functioning at Curti in Ponda latuka to produce qualitative pigs for their distribution to farmers for breeding. Large white-York-shire and other improved breeds of pigs were maintained at this farm.
Fishing formed an important economic activity of the Goa. The Goa is abounded in rich marine and inland fisheries potential which consisted mainly of prawns, one of the most important foreign exchange earning commodity and commercially important shoaling fish like mackerels and sardines.