Andaman & Nicobar Tourism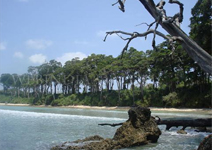 Neil Island has a long shallow beach and is used for timbering operations. There is also a lake.
It is located at the distance of 40 km north-east of Port Blair. The island is becoming popular for its pristine beaches, laid back ambiance and great Snorkelling. Neil with its dazzling beaches is quite popular among the foreigners. It is a good destination for Scuba diving other than Havelock. One gets a feel of diving in a controlled, safe environment, and that too swimming skills are not required.
One can feel the sincerity and serenity of village life here. Beautiful beaches at Laxmanpur, Bharatpur, Sitapur and the bridge formation on the sea-shore (Howra bridge) are the attractions...Read more info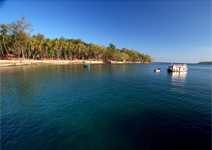 Located 57 km north-east of the capital city Port Blair, Havelock island with its lush greenery of dense forests and mangroves, palm fringed white sandy beaches stretching along the Bay of Bengal, turquoise waters, vast marine species have become a favoured destination among the South Andaman islands for tourists.
Named after Mr. Henry Havelock, a British General, some of the main attractions of Havelock Island are Vijay Nagar Beach and Radha Nagar Beach, both recipients of A rating from the World Tourism Organization (WTO). Radha Nagar beach was also rated among top ten beaches of the world by TIMES magazine a few years back. Elephant Beach is famous for its coral reefs and rich aquatic life. Here there are facilities for underwater walk on the sea bed (6-7m depth) enjoying the exotic marine life in their natural habitat accompanied by trained divers/guides.

Besides the amazing Sea Walk, water sports like Scuba diving and Snorkeling are the highlights of Havelock Island. In fact, Diving around the Andamans is mainly limited to Havelock. Other activities are trekking, island camping etc.
Private and govt. ferries are available from Aberdeen Jetty at Port Blair to Havelock island which will take about 2.5 hours. An air-conditioned catamaran will take you 90 minutes, and sea plane will take 20 minutes from Port Blair to reach Havelock...Read more info
For more details & booking Trips to Andaman
Mobile: +91-9933275656/ 9476071071
Office: 03192-230229/230634