Mamallapuram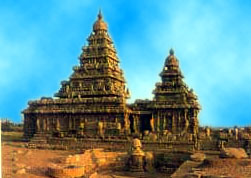 It is 59km south of Madras. It was an old port city and capital of the Pallava kings. It consists of 4 kinds of rock structures, cut-out monolithic rock temples (rathas), cut-in cave temples (mandapams), temples constructed from multiple pieces and materials, and bas-relief sculptures carved on large rocks. The combination of old 7th and 8th century Pallava carvings, temples and wonderful beaches make the place a beautiful tourist destination.
The Shore Temple is situated near the Ocean. This was built by the Pallava King Rajasimha in the early 8th century. The courtyard is surrounded by a massive wall. The entrances are guarded by sculptures of mythical deities. Inside one of the shrines, there is an image of Vishnu lying with a snake at his side in cosmic sleep on the sea.
The Krishna Mandapam This is a 12 column cave temple. It has a natural figure of a cow being milked. There is a sculpture of Krishana holding up the Govardhan mountain to protect his people from Indra's flood, on the black wall, in side the Mandapam.
The Adivaraha cave is famous for its two portraits of royal Pallava kings with two goddesses.
The light house built by the British gives a good view and serves as a landmark in navigation.
The Mahishamardini Cave is near to the light house, on top of the hill. It is the most outstanding mandapam. The wall on the right side, is carved with the Durga, riding on the lion and defeating the Mahisha, the buffalo demon. In the opposite side there was a carving of Vishnu reclining on the great serpent Sesha. At the back of the Mahishamardini Cave there are three cells containing Shiva, Uma (Consort of Shiva) and their son Skanda.
The Tiger Cave is 5Km away from Mamallapuram, at Saluvankuppam, This place is a favorite picnic spot. The cave is distinguished by the crown of carved tiger heads around the temple, dedicated to Goddess Durga.
Tirukkalukundram (Sacred hill of Kites) is 15 Km west of Mamallapuram. The pilgrims are come here to climb 500 steps to reach on top of the hill to witness the Brahmin priests, who fed the two kites (birds).