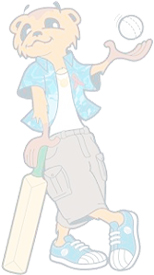 Welcome to the ninth World Cup Cricket 2007 !!!
The ICC World Cup 2007 will be held in West Indies from March 13 to April 28. The Warm up matches between the teams will be held from March 5th to 9th.
The Greenfield Stadium, Trelawny, Jamaica will host the Opening Ceremony on 11 March. The official mascot of this tournament is an orange raccoon-like creature called Mello wearing a blue short-sleeved shirt over a white vest and blue sneakers leaning on a cricket bat.
Sixteen nations are participating in this World Cup which is divided into 4 groups of 4 teams. There will be a total of fifty one matches played at the 2007 ICC Cricket World Cup. The top two teams from each group will compete in a Super 8 from which the semi-finalists will be decided.