Chandigarh is the 1st planned modern city of India designed by the French architect Le Corbusier. Chandigarh and the area surrounding it were constituted as a union territory on 1st November, 1966. It serves as the joint capital of both, Punjab and Haryana states. It is bounded on the north and west by Punjab and east and south by Haryana. Total area of the union territory is 114Sq.Km.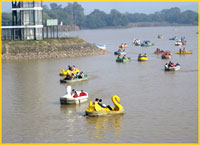 The city was named after the mother goddess of power, Chandi, whose temple Chandimandu is a feature of the new city. Le-Corbusier was assisted by his cousin, Pieree Jeanneret and the English couple E.Mazwell Fry and Jane B. Druel. These 3 architects are responsible for most of the public and residential building raised in Chandigarh between 1950 and 1965. The beautiful city also known as 'city of roses', was planned to house the capital to the erstwhile Punjab state. On partition of Punjab, on linguistic basis, the present union territory was formed which in addition to the city of Chandigarh included Mani Majra town and some villages of Kharar Tehsil of Ambala district. Much of the beauty owes to the planning of the city in sectors with houses which conform to a modern design and its grand Secretariat and Assembly buildings were build according to Le-Corbusier's plans and a picturesque lake was also created along with the Shivaliks. The genius of Nek Chand led to the creation of one of Chandigarh's landmarks the 'Rock garden', and a rose garden also came up. It is one of the most attractive cities of India. It has a large lake i.e. Sukhna lake, with beautiful picnic spots. Hindus, Muslims, Sikhs, Buddhists, Jains and others from the religion wise break up of population, decendingly in that order.
Geography and Physical Features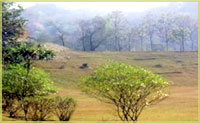 Chandigarh is situated at the foot of the Shivalik range. There are hardly any forest in this union territory, except for small tracks of forest by acquiring some area on lease from Punjab and Haryana states. There is about 2542 hectares of forest area in Kansal (Leased from Punjab) and Nepali (Leased from Haryana) forest and some area in Raipur Khurd village of Chandigarh union territory. The forest department is also maintaining a Deer Park in Kansal forest and a nursery near Hallo Majra village. Forest Department is also taking adequate steps to promote wild life in Kansal forest and is likely to be converted into a tourist spot.
The district at present comprises of one Tehsil and equal number of community development blocks. It has 5 towns and 25 villages.
In Chandigarh, transport and communication facilities are highly good. Indian Airline Service connects Chandigarh with Delhi, Amritsar, Jammu and Srinagar. During season Kulu flight from Delhi also haults at Chandigarh. It is directly connected with Delhi and Amritsar by rail. Regular buses ply from important cities of Chandigarh.